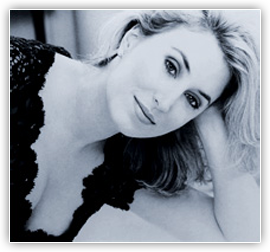 Darynn Zimmer is an active soprano, producer, recording artist and educator. She has sung with international and American festivals, orchestras and regional operatic companies: Spoleto (USA & Italy); Orquestra Petrobras, Rio; Aspen Opera Theater; American Music Theater Festival; Center for Contemporary Opera; American Opera Projects: Encompass New Opera Theater: Greensboro; Skylight and Tampa, performing contemporary and standard repertoire by Bach, Copland, Anthony Davis, Donizetti, Foss, Glass, Monteverdi, Orff and Somei Satoh, among many others. She has appeared as soprano soloist at Carnegie Hall, Alice Tully Hall, Merkin Concert Hall, and the Morgan Library, and with conductors such as Marin Alsop, Bradley Lubman, Paul Nadler, Anton Coppola, David Randolph, Robert Bass and Richard Westenburg.

In recent engagements, Ms. Zimmer performed at the 2016 Bergedorfer Musiktage, the largest summer festival in Hamburg.  She was invited to perform the Children's Songs, Op.13, by Mieczyslaw Weinberg in Chamber Music at the Scarab Club in Detroit, a performance co-sponsored by Michigan Opera Theater to highlight their production of The Passenger.  She performed these songs again in Miami, in connection with the production at Florida Grand Opera.  As performer and co-producer, Ms. Zimmer was part of 'Ciao, Philadelphia 2015' festival in, "Introducing B Cell City," a multi-media work in progress addressing cancer and the environment.  Ms. Zimmer sang 'Elizabeth Christine,' in a Center for Contemporary Opera showcase of Scott Wheeler's opera, The Sorrows of Frederick. She appeared in the world premiere of Zinnias: The Life of Clementine Hunter by Toshi Reagon and Bernice Johnson Reagon, directed by Robert Wilson.  She performed Hoiby's The Italian Lesson and Weisgall's The Stronger at the Poet's Den Theater, East Harlem, and appeared in staged readings with the Center for Contemporary Opera, including Big Jim and the Small Time Investors, by Eric Salzman.

Upcoming engagements include Szenen aus Goethe's Faust at Schumann's birthplace, Zwickau, Germany with the von Arnim Trio, and concert performances in Vilnius and in Kaunas, Lithuania.  Ms. Zimmer will perform the complete Spanisches Liederbuch by Hugo Wolf in collaboration with colleagues at the Frost School of Music on October 19, 2017.

Her CD's Oiseau Bleu and Savage Nightingale, Mona in Daron Hagen's opera, Bandanna, and the DVD, Colors of the Diaspora with Regina Resnik, are widely available.

Ms. Zimmer is a performer with and the Musical Liaison for CAM Art Co., a multi-media production company based in Brooklyn.  She is part of the creative team for a new opera based on Norman Mailer's, An American Dream, and continues work on developing B Cell City.

Darynn Zimmer is a winner of the Joy in Singing Award, a Metropolitan Opera Eastern Regional Finalist, a Finalist in the Luciano Pavarotti International Voice Competition and Young Concert Artists. She is a graduate of the Juilliard School with a Master of Music in Voice, and holds a Bachelor of Music degree in Voice and Opera from the Mannes College of Music.